Photo gallery
Here are some activities of the Friends of Hebden Bridge Station.
2016 Bulbs planted in new bed by the nursery
Hebden Royd Town Council provided the bulbs and the Friends planted them out around the station gardens. The new bed by the nursery looked like this in spring 2017.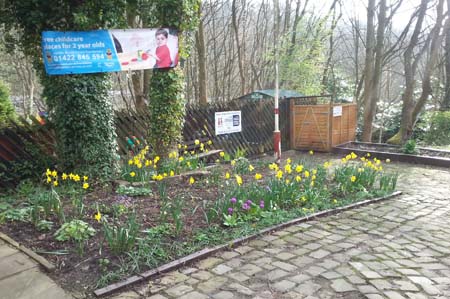 The Annual Big Spring Clean
Every year the Friends of Hebden Bridge Station join in with the Big Spring Clean Up organised by Hebden Royd Town Council. This raises some money for the group to do further work. A big thanks to Hebden Royd Town Council for not only supporting the Big Spring Clean-Up but also for providing the bulbs which we plant in autumn make the station look particularly attractive each spring.
2015 Big Spring Clean
Ready for action.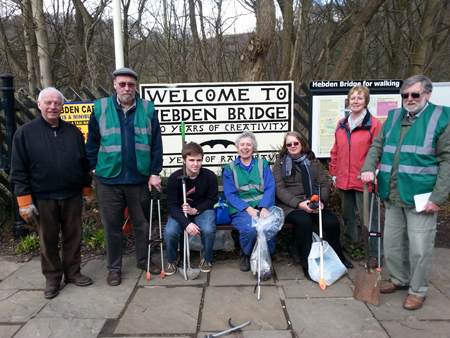 David models our Hi Viz Vests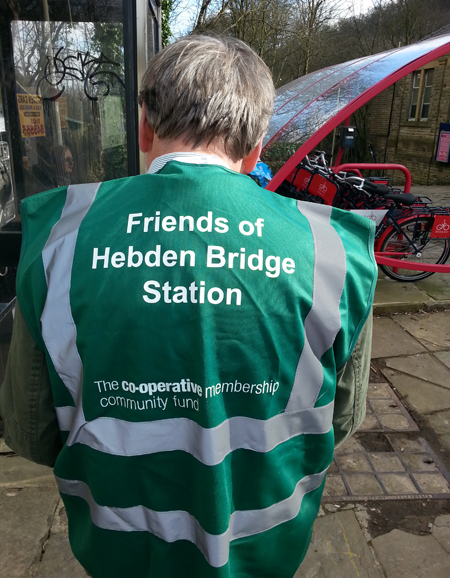 2014 Big Spring Clean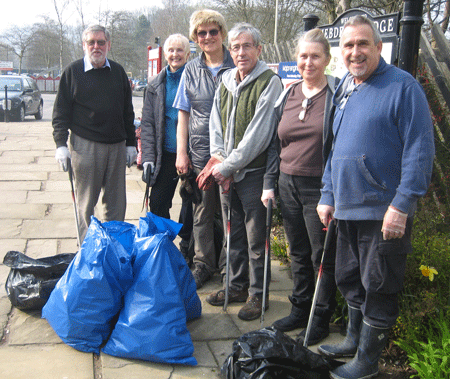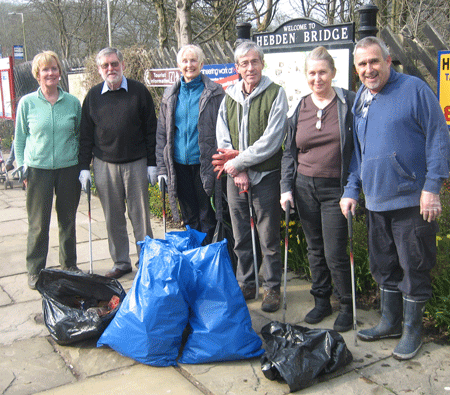 2013 Spring Clean
What a success! Nine people turned up for our Big Spring Clean Up on 6th April 2013. Bob Deacon, David Storr, Andy Grant, Heather Stanton, Martin Whittell, Nick Hodginson, Kerry McQuade, and Nina Smith filled heaps of bags with litter and even managed to collect the front section of a red car….
Photos by Kerry McQuade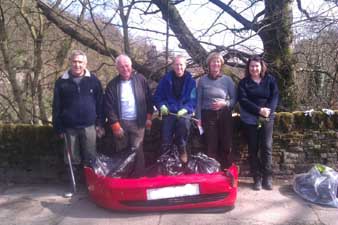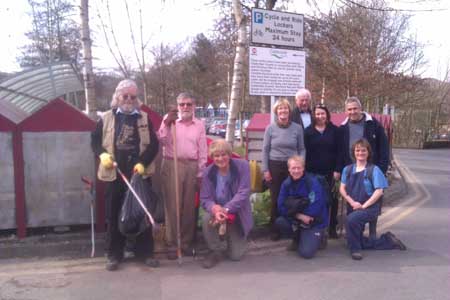 Carol singing in aid of
The Railway Children
at Hebden Bridge Station
Since 2007, Friends of Hebden Bridge Station have organised Carols at the Station with Churches Together to raise money for the Railway Children. The charity helps children at risk especially those who are found or live near railways in the UK, India and East Africa.
Here is a list of what we raised followed by photos from various years.
2015 Wednesday 16th December £114.08
2014 Monday 8th December £95.58
2013 Wednesday 18th December £126.96
2012 Tuesday 18th December £152.40
2015 Carol singing
David Storr led over 30 singers.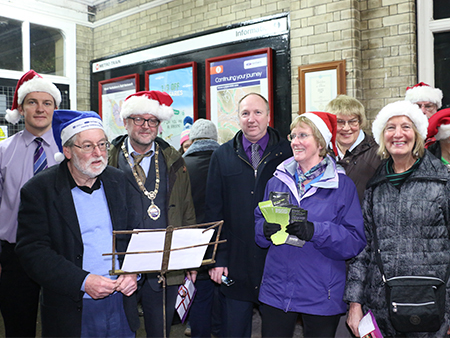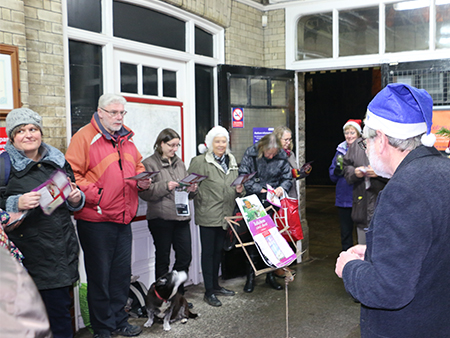 Chris Browne on keyboard and Diana Monahan on recorder provided the music.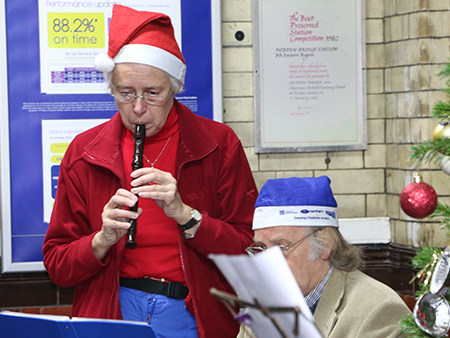 Hebden Royd Mayor, James Fearon.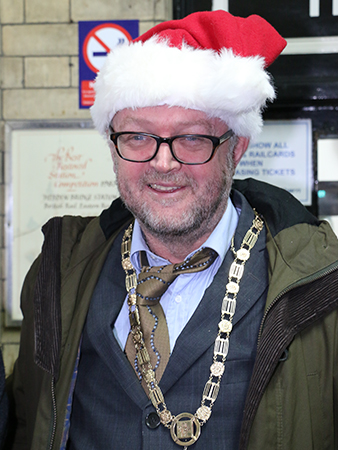 Hebden Bridge Private Day Nursery decorated the Christmas Tree.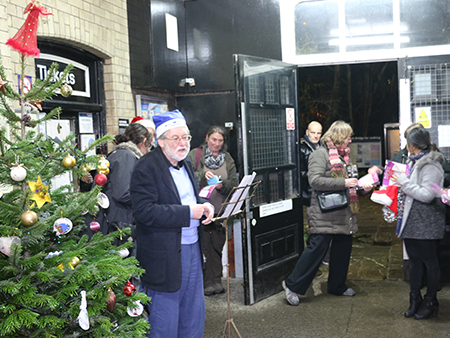 Lesley Mackay receives a generous donation.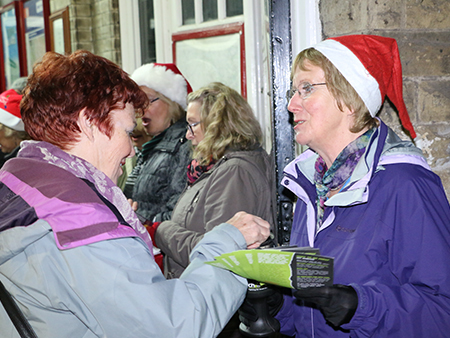 Enthusiastic Singers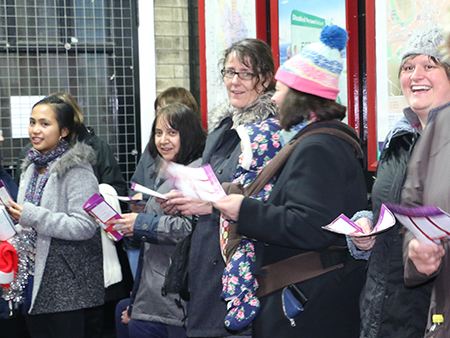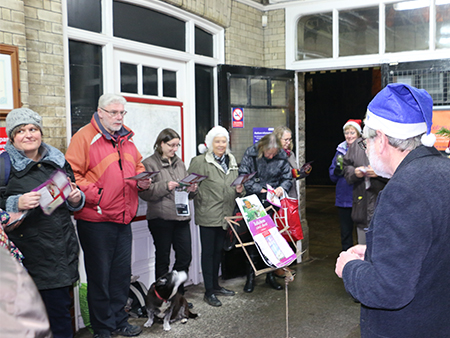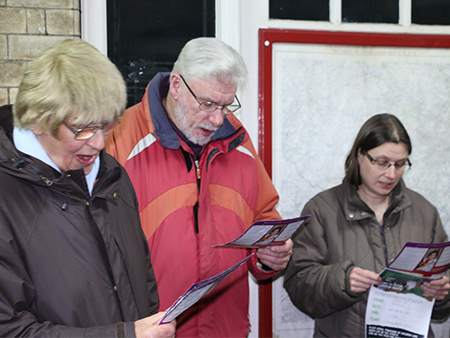 2014 Photos by Martin Whittell.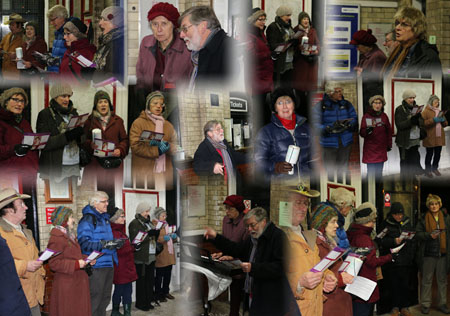 Our 2013 Christmas Tree
Thanks to Northern Rail who, with the Friends of Hebden Bridge Station, paid for a tree to be put in the booking hall. Bob Deacon organised the installation and was assisted with the decorating by the children and staff of the Hebden Bridge Private Day Nursery.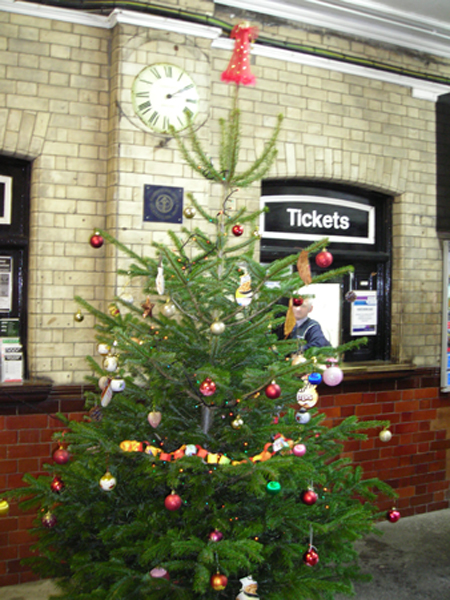 David Storr organised the event and conducted the musicians and singers.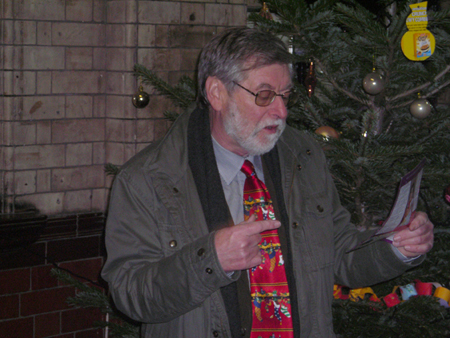 Diana Monahan (keyboard) and Helen Tarry (flute).

The 2013 Mayor of Hebden Royd, Karl Boggis, joined in.


Carol Singing 2012
Photo by Martin Whittell.

A Friend of Hebden Bridge Station

The 2012 Mayor of Hebden Royd, Christine Davenport, came dressed in a bright "Mother Christmas" outfit. There was an amazing turnout of singers from near and far who had travelled from Oxenhope, Todmorden and Mytholmroyd and several groups including Calder Valley Voices, Little Theatre Singers, Churches Together. The Parcel Office Bar opened especially on the Tuesday evening to provide warming drinks including mulled cider.
Award from the
Co-operative Membership Community Fund
A cheque for £900 from the Co-operative Membership Community Fund was handed over to the Friends of Hebden Bridge Station on Saturday, 29th March 2014 for our new project.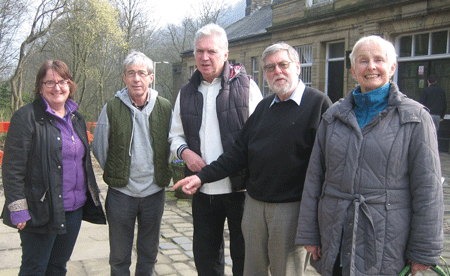 This is what we did over the following year.
Saturday 26th April 2014 Raising the bed in new vests
The volunteers tried out the new vests promoting the Friends of Hebden Bridge Station when they began work on a new raised bed near Hebden Bridge Private Day Nursery.
Before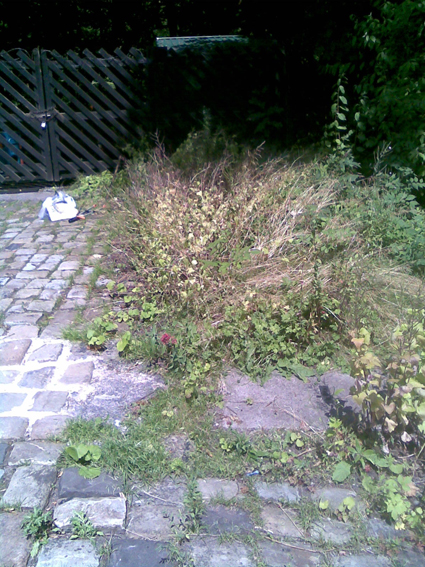 After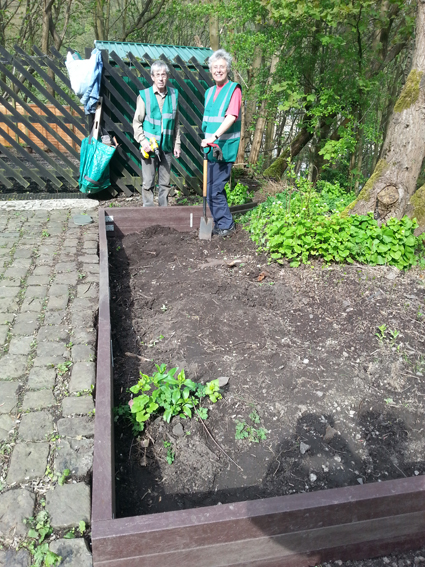 In 2014 they were planted with yellow flowers, gladioli and alliums, for Le Tour de France which came through Hebden Bridge, but long-term the bed is for the nursery to use for the educational benefit of the children as they watch plants growing from seeds they have sown.
Thursday 5th June 2014 A new path edge
Thanks to the Co-operative Membership Community Fund for the money to buy the recycled plastic timber, and Absalom from Jacobs Gardens, who kindly used his van to deliver it to the station, three Friends of Hebden Bridge Station were able to create a new edge to one of the footpaths to the station. This was despite someone taking away materials that had been delivered earlier. We also made a compost bin to use when we were gardening at the station, but sadly this was either vandalised or removed before we could fill it. Northern Rail also provided six barrels for us to look after.
Paul and Diana Monahan made birds' nesting boxes and put them in the trees.
David Storr and David Taylor alongside the new edging.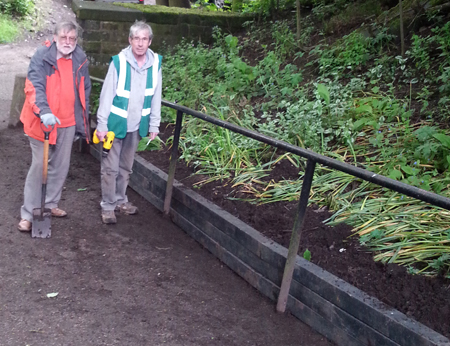 Monday 24th November 2014 A new water butt and clearing on platform1
Thanks to the Co-operative Membership Community Fund, Friends of Hebden Bridge Station bought a water butt for platform 1 to provide water for the window boxes and tubs.
A new water butt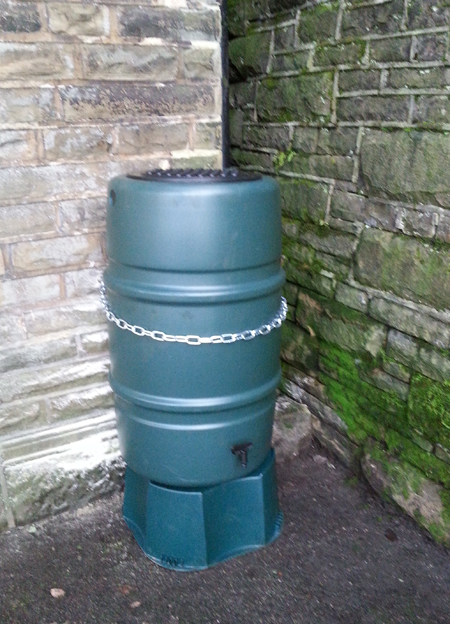 Before and after photos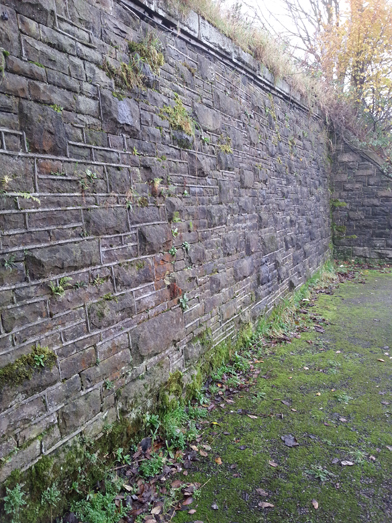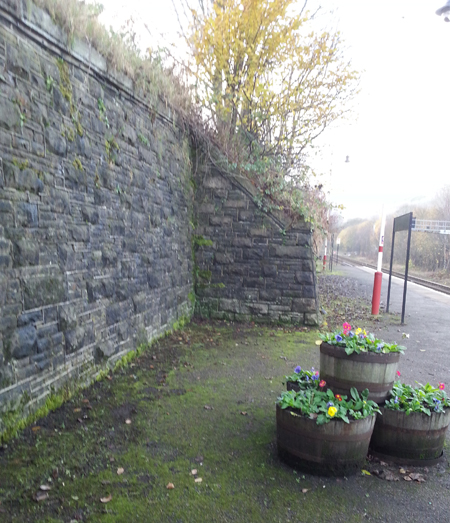 Saturday 11th October 2014.
Stakeholders Day Out to Hull
After an early start, a group of Friends of Hebden Bridge Station travelled to Leeds and then, onward to Hull on a Transpennine train arriving at 09.45. We were met by 'Happy Smiling' faces of Northern Rail staff who directed us to the open top bus, which took us on a tour of the town, and then on to the museum quarter where we spent an interesting hour and three quarters. It was then back on the open top bus for a short journey to the Hull History Centre for lunch which was followed by some short speeches. It was then back to the bus for the short trip to The Deep for the final part of the event. We spent a little over 2 fascinating hours here and would recommend this attraction to anyone visiting Hull. Although the bus was available for transport back to the Railway Station, we decided to walk, as this would give us an opportunity to see the town centre. We got a train back to Leeds and a short wait for the train to Hebden Bridge. This was a very enjoyable day out and thanks to Northern Rail for their faultless arrangements and hospitality.
Photos by Martin Whittell, Chair of Friends of Hebden Bridge Station.
Not our sight-seeing bus, but one in the museum.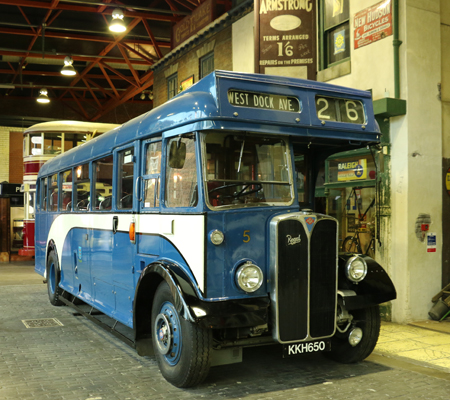 Winter Fuel!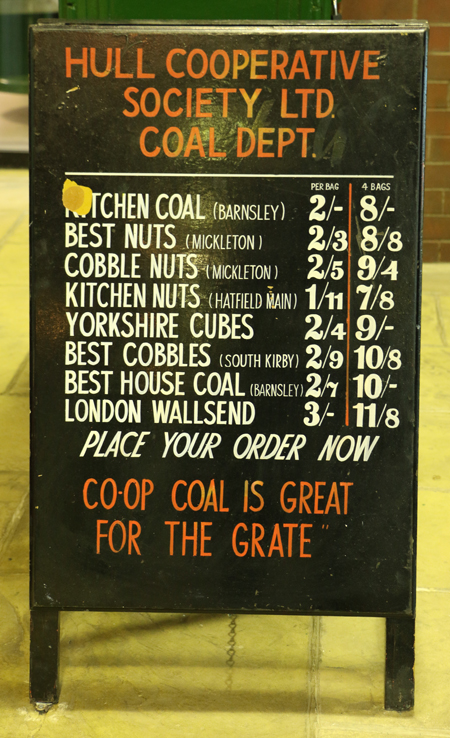 The last side-winder trawler,The Arctic Corsair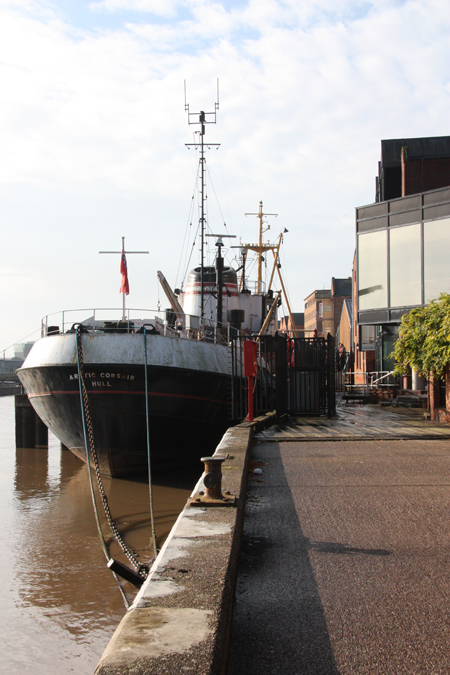 Cooking facilities on the trawler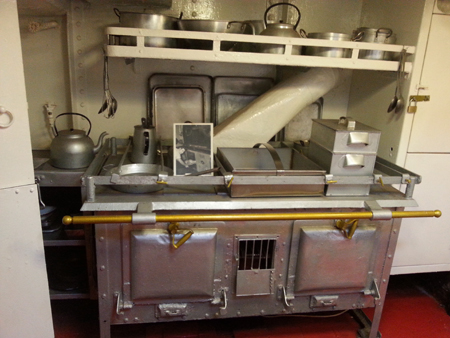 2011 Northern Rail outings
In 2011 Northern Rail for provided Friends of Hebden Bridge Station two "Thank You" outings. The group was very appreciative of this gesture.
Saturday 14th May 2011
We were invited by Northern Rail to have a day out anywhere on their network so we decided to visit Lincoln. Seven people set off from Hebden Bridge on the 0750 train to Leeds. We changed again at Sheffield before arriving at Lincoln just after 12 pm. We had about four hours before the return journey to arrive back for around 8 pm. Difficult choices had to be made on arrival. Some people went to the castle or cathedral, others visited Bray Pool, had a tour of the Guildhall and toured several hostelries. The changes at Sheffield gave us time to see the splendid water features outside the station in Sheaf Square, to walk to the canal basin or into the town centre and visit the Sheffield Tap or a café. There was a National Morris Dancers' event taking place so strange costumes and make-up prevailed.
| | |
| --- | --- |
| | Sheffield's Sheaf Square |
| | |
| --- | --- |
| Sheffield Basin | |
Sunday 22nd May 2011
Our next trip was to Settle together with volunteers from many other stations. A generous packed lunch was provided at Victoria Hall, followed by a number of organised activities including visits to the Settle Station Signal Box (now disused but fully restored and relocated nearer the station), a water tower which is being restored as a house, a look around The Folly which is a museum and a walk to an Archimedes Screw on the river.
| | |
| --- | --- |
| | Inside Settle Signal Box |
| | |
| --- | --- |
| Inside Settle Signal Box | |
A new poem by Sarah Corbett
Sarah Corbett asked 6 poets to submit poems which were displayed at the station over the winter of 2013-14. Below is Sarah's poem which appeared over summer 2014.
We will announce later our plans for the 2014-2015 poetry season at the station. In the meantime watch this space for an announcement about a poetry event at the station where some of the six poets will read their work.
Spring in the North
Deep in the Pennines winter holds the balance.
Ewes last to lamb wait it out in the lea of a wall
Reduced to rubble, trees refuse to bud, tucking
Shining root knuckles into earth black with rain.
In the estate on the hill the people put chairs
Out in a patch of sun small as a pane of glass,
Only to retreat in five minutes to heated rooms
And wait for the season to lose its grip.
At last, the equinox, and the world rocks
steady as a cradle between its wooden stoppers.
The sky rolls out its map, oceans blue as the
veins in your wrist as you reach up, taller by inches,
hear the thread of winter snap.
Across the valley a moor is fired, a gold eye opening.
The first warm day is nothing short of a miracle.
Sarah Corbett has published three collections of poetry, The Red Wardrobe (seren 1998), The Witch Bag (seren, 2002) and Other Beasts (seren, 2008). Sarah grew up in North Wales and moved to Hebden Bridge in 2001 and teaches Creative Writing at Lancaster University. She organised monthly poetry readings at The Book Case in Hebden Bridge. PoetryNites@TheBookCase.
2009
| | |
| --- | --- |
| | Reg Godwin, the ever-cheerful and helpful booking office clerk at the station, who died in 2010 from pancreatic cancer. This photo was taken at Todmorden Station Gala, 20 September 2009. |
Some of the volunteers on Day 2 of an afternoon "litter-picking and planting" session in March 2009.

On Day 1, it poured with rain but we had glorious sunshine on Day 2!
| | |
| --- | --- |
| | Having lunch at the cafe's outside tables on the station forecourt on a sunny June day in 2009. |
| | |
| --- | --- |
| The view from Platform 2 down the valley towards Mytholmroyd. | |
| | |
| --- | --- |
| | The signalbox on the westbound line. |
| | |
| --- | --- |
| The lamp room on the westbound line. | |