News
One of the blocks of cycle lockers, strengthened to provide more security.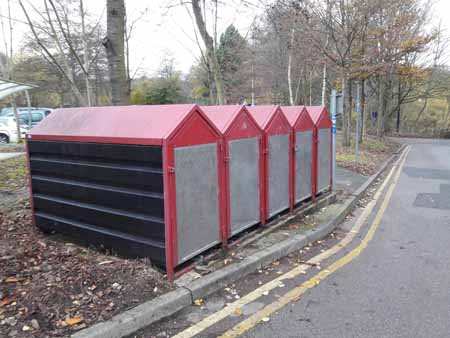 The Trials and Tribulations of the Railway Passengers
On Monday the 30th October, 2017 the Friends of Hebden Bridge Station hosted the third lecture in the series by Peter Jeffery, entitled 'Trials and Tribulations of the Railway Passengers'.
As in the previous lectures, Peter told us of problems faced by those pioneers, who had to invent solutions to these problems as they occurred, for never before had people seen powered mechanical transport, nor had anyone ever travelled so fast before.
Peter explained how passenger carriages developed from horse-drawn carriages (for the first-class passenger) and from the coal wagon (for the unfortunate third-class). Well-illustrated by contemporary drawings and later photographs, we learned how third-class and first-class became a little closer in comfort and why second-class disappeared. Before the advent of restaurant cars, pioneered by the Midland Railway in 1874 with Pullman Carriages, long-distance trains would stop at intermediate stations so that passengers could buy food. They also took "comfort brakes" as train lavatories didn't arrive until late Victorian times. Passenger comfort and convenience(s) were discussed and, as always, Peter laid great emphasis on the development of safe working of the trains.

The diagrams and explanations from Peter had plenty of detail for the knowledgeable enthusiast, but were easy enough to follow for the lay listener to understand.
Treble Celebrations!
The Friends of Hebden Bridge Station held their 10th Anniversary celebration in the Parcel Bar Café at the station on Thursday 28th Sept 2017 at 11.00am.
FoHBS was formed in 2007. Our group takes an interest in the heritage of Hebden Bridge and safeguarding and enhancing the environment of the station and surrounding grounds. We promote the use of rail and other forms of sustainable transport, campaign for facilities for rail passengers and station users, and maintain the grounds. We also work with various community groups, the rail franchise holder, local businesses, and have contact with other station groups.
By happy coincidence this date marked the publication by Penguin/Random House of Sir Simon Jenkins' book 'Britain's 100 Best Railway Stations'. Hebden Bridge 'particularly charmed' the author.
The third celebration was a pleasant surprise. See the separate article below.
HEBDEN BRIDGE STATION CAFE
VOTED BEST IN COUNTRY
"The Coffee Station", the cafe on Hebden Bridge railway station, is the first ever winner of a prestigious national award.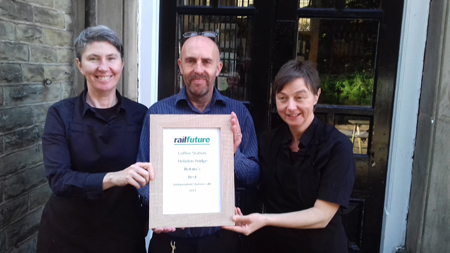 Christopher Hyomes presents the award to Lisa Crebbin and Antoinette Hunt
The award is from Railfuture – the national rail passenger organisation that campaigns for better and more trains and a bigger and better railway. Station cafe customers across Britain were invited to vote on Railfuture's website for their favourite independent station cafe. "The Coffee Station" beat other popular cafes from across the country and received over 500 votes from customers, over three times as many as the second place cafe (in Portsmouth, Hampshire); the Jubilee Refreshment Rooms at Sowerby Bridge came fourth.
"The Coffee Station" was taken over in 2005 by Heptonstall residents Lisa Crebbin and Antoinette Hunt. It is open from 6am to 2pm Monday to Friday, and for slightly shorter hours on Saturdays. It serves hot and cold drinks, light lunches, all day hot snacks, home-made sandwiches and cakes, and also newspapers and greeting cards. Service is warm, friendly and efficient, and prices are very reasonable – a cup of tea is only 90 pence, a filter coffee £1.
The award ceremony took place in the "Coffee Station" and was attended by the Mayor of Hebden Royd Councillor Pat Fraser, and Arriva Trains North's Stakeholder Manager Pete Myers and Communities and Sustainability Manager Richard Isaac. Presenting the award, Railfuture's Honorary National Communications Director and Board Member Christopher Hyomes from Pontefract congratulated Lisa and Antoinette for winning the award, and said they had beaten stiff competition from across the country. He said that good quality station cafes were greatly appreciated by passengers, especially regular commuters, and Railfuture had set up the award to encourage station cafes.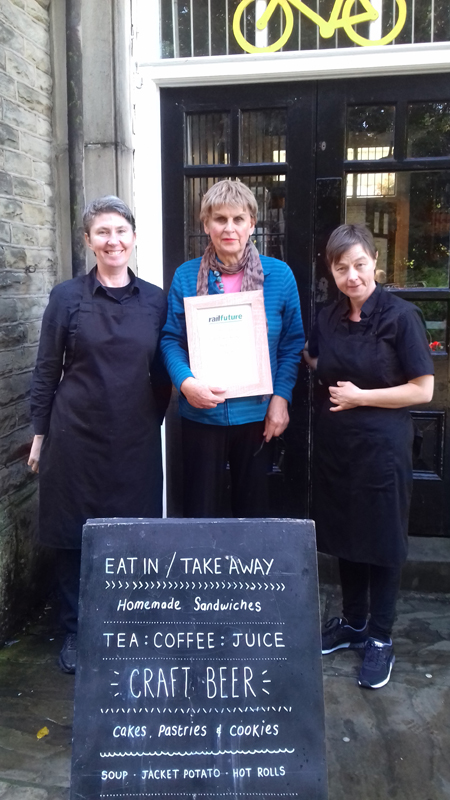 Lisa and Antoinette with Nina Smith, a Friend of Hebden bridge Station.
The Mayor of Hebden Royd, Councillor Pat Fraser, on the left, with one of her consorts standing by one of the noticeboards for Friends of Hebden Bridge Station..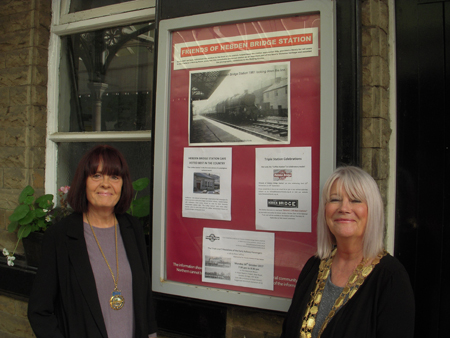 The Northern Railway clean-up
Rubbish down railway bank alongside Pennine Housing flats: A working party organised by Trevor Bannister from Mytholmroyd and Northern Railway took place on Sunday 23rd April 2017 – four volunteers were assisted by Richard Isaac and another member of Northern's staff. The area looks much tidier! It is hoped that arrangements can be made to reduce the problem of litter here in the future.
Entering the bank behind platform 1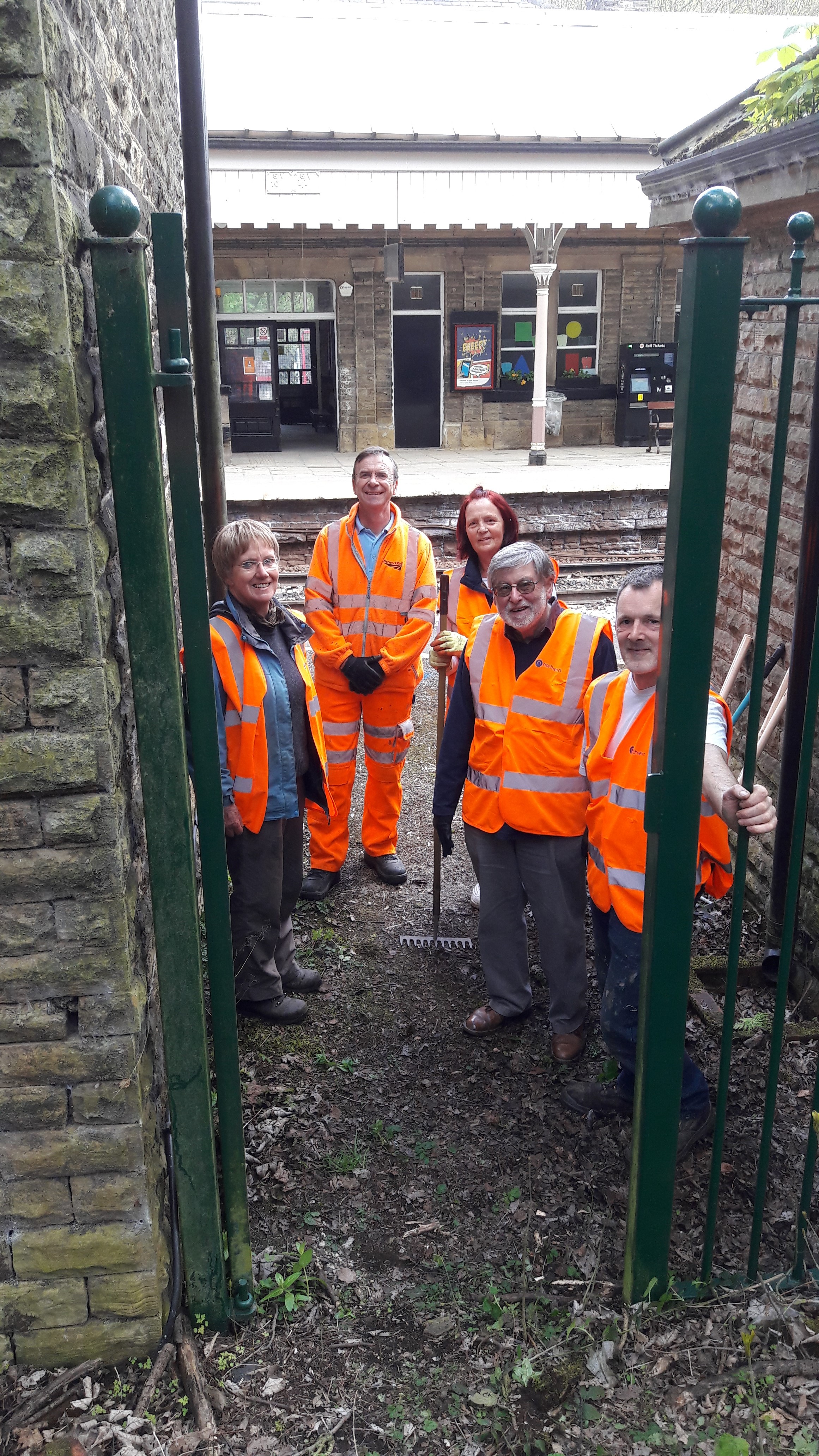 Some of the volunteers.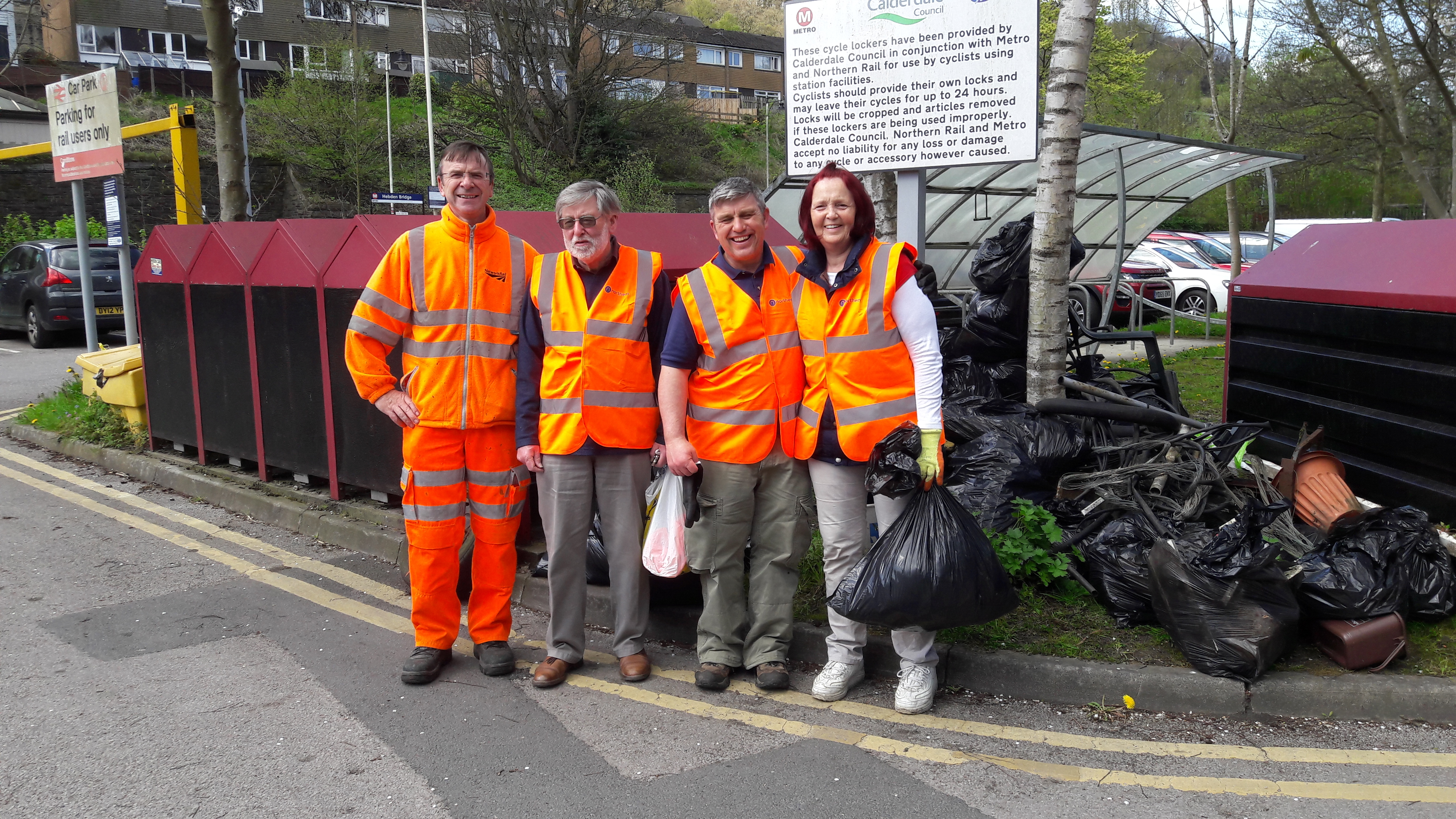 The bags of rubbish collected.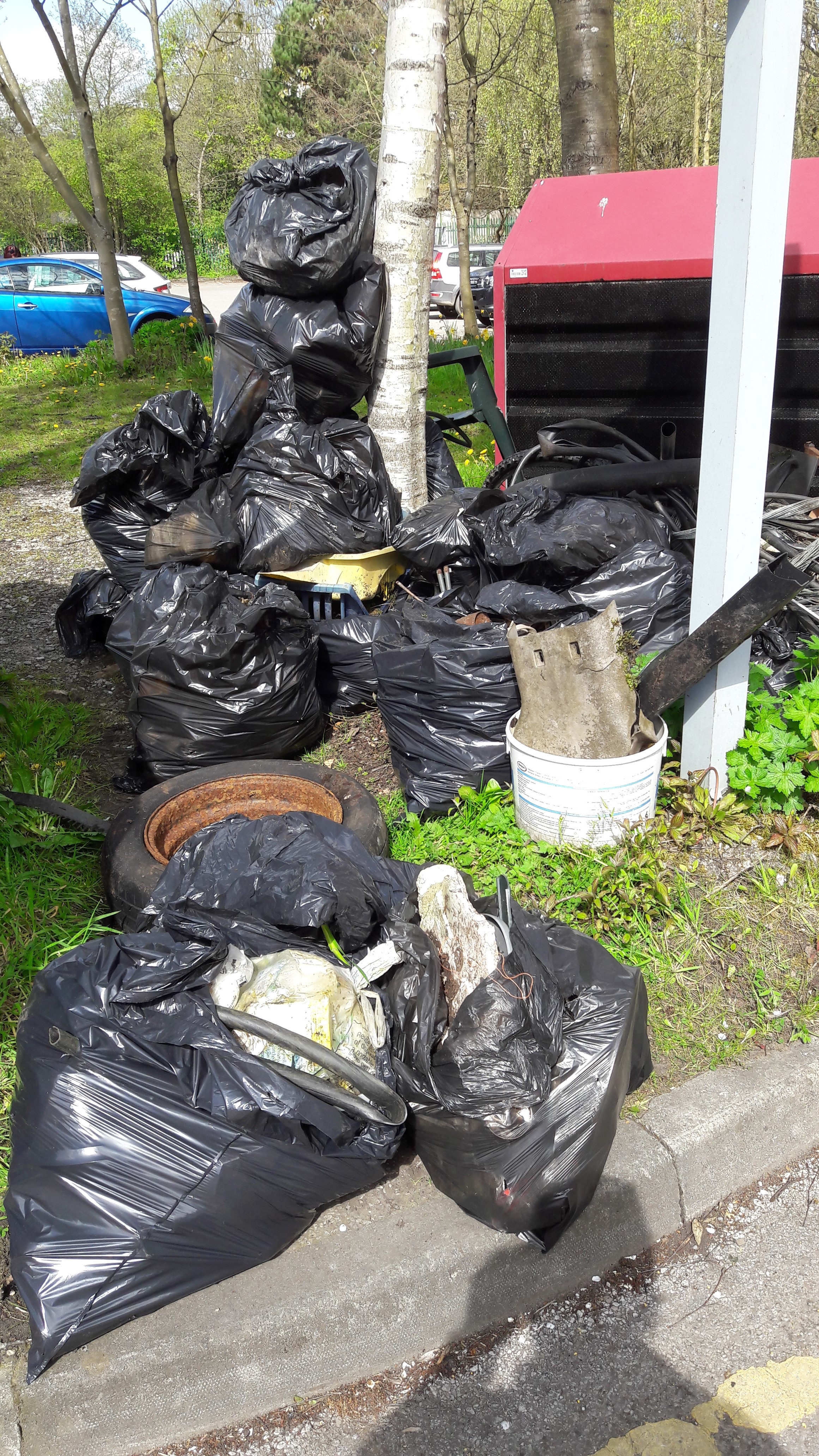 Planning Application for Hebden Bridge Station 17/00299/LBC Replacement of existing disused goods lifts with new passenger lifts in same location, including minor alterations to staircase on Platform 2, raising of platform 1 in vicinity of new lift entrance and new lighting to existing subway. Installation of 13 CCTV cameras. (Listed Building Consent)
Hebden Poetry
We invited local poets to share a poem with us. They can be read on our station noticeboards or are available below.
Latest poem: Platform 3 Lancaster Railway Station by Anne Etherington here.
Station Cafe by Graham Ramsden here.
Journey by Eileen Wright here.
Travelling by train at half term by Anne Etherington here.
Blue Flowers by Chrissie Bury here.
She cannot weep by Moira Garland here.
29th March 2017
The Trials and Tribulations
of the Railway Pioneers - at work
The Friends of Hebden Bridge Station hosted the second lecture in the series by Peter Jeffery. At this well-attended illustrated lecture, Peter told us of the problems faced by those pioneers, who had to invent solutions to problems as they went along.
Never before had anyone seen powered mechanical transport, nor had anyone ever travelled so fast before. Some people even believed that it would be impossible to breathe when moving at such a speed. We were told that unfortunately the spur to action and invention was often an accident, such as the one Peter described where in September 1830 William Huskisson MP was struck by a locomotive at the Rainhill Locomotive Trials and later died. This led directly to the development of better brakes on trains. Peter explained and showed how on railways everything is designed to be fail-safe, from the brakes where the power is used to hold brakes off rather than to apply them, to signals which would fall to 'danger' if a control wire broke.
Other problems covered were:
What is a public railway?
How should the wagons be pulled?
Passenger safety - crime prevention
Parliamentary Control
The diagrams and explanations from Peter had plenty of detail for the knowledgeable enthusiast, but were easy enough to follow for the lay listener to understand.
Big Spring Clean 25th March 2017
Lesley, David, Sue, Paul, Diana and Bobby carried out a litter pick around the station approaches.
Here are the team gathered at the start.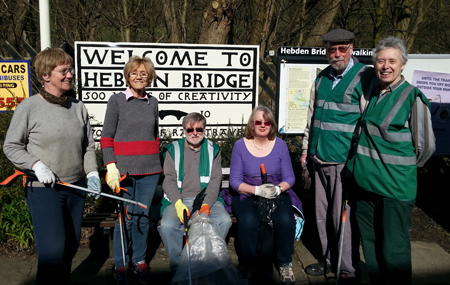 Still smiling at the end.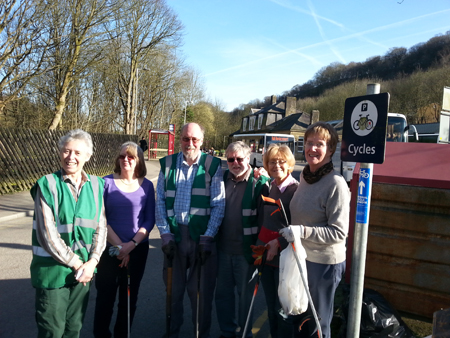 The collected rubbish by the cycle lockers.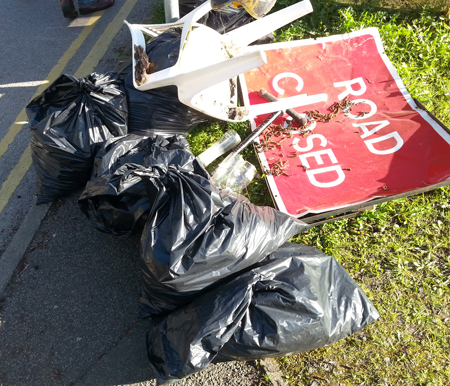 Whilst collecting litter from the allotment bank alongside Station Road, the missing coping stones were found so a repair was carried out.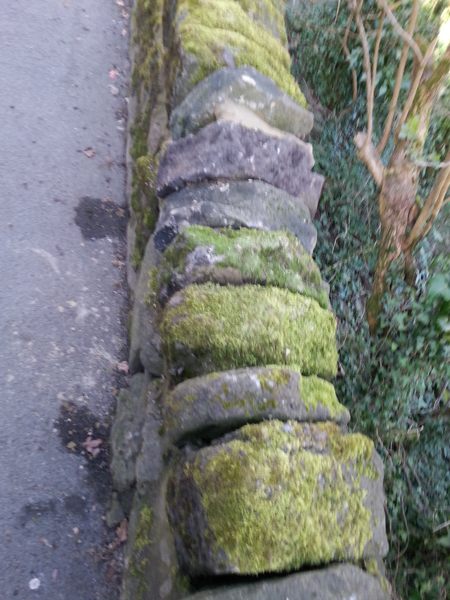 Brendan, a TLC driver, gave us some encouragement.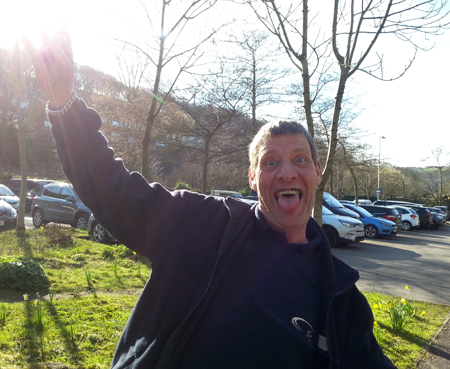 Friends visit Skipton to see Tornado
On 15th February 2017, some Friends of Hebden Bridge Station visited Skipton to see Tornado. Here are a few photos. (First three by Richard Sterry, last one by Diana Monahan).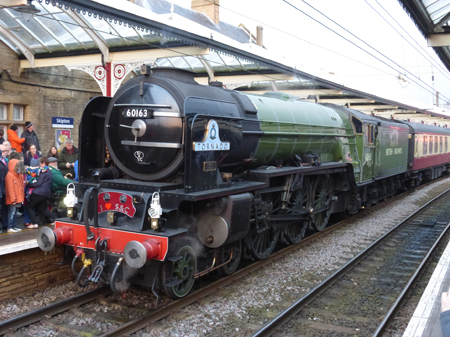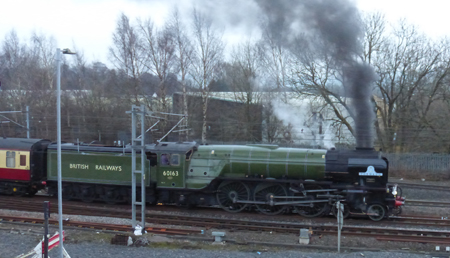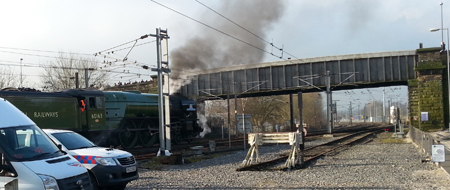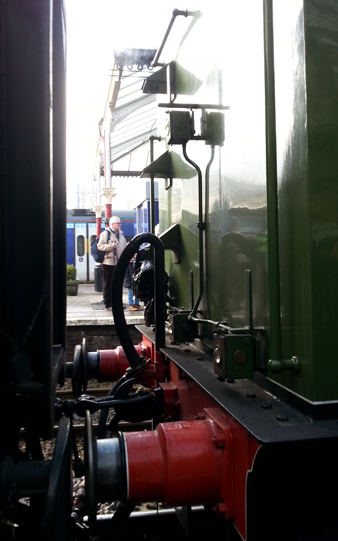 2016 Carols for Commuters raised £117.86 for charity
The Friends of Hebden Bridge Station would like to give a big "thank you" to the commuters for raising £117.86 for The Railway Children Charity. The charity helps street children at risk especially those who are found near railways in the UK, India and East Africa.
David Storr conducted the ad hoc choir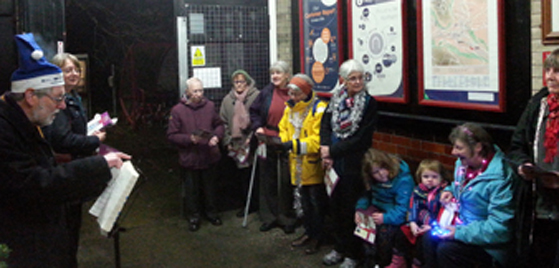 who were joined by the Mayor of Hebden Royd Town Council.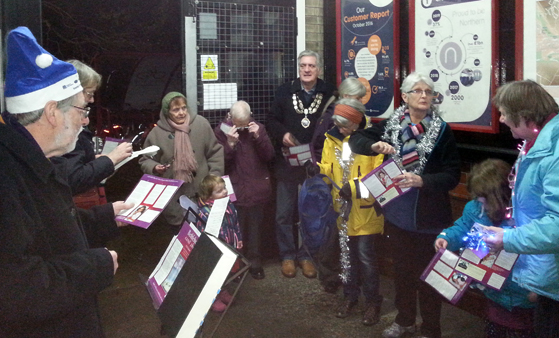 The current Mayor of Hebden Royd Town Council, Tony Hodgins, with the ex-mayor from 2000, Paul Monahan, who is a Friend of Hebden Bridge Station.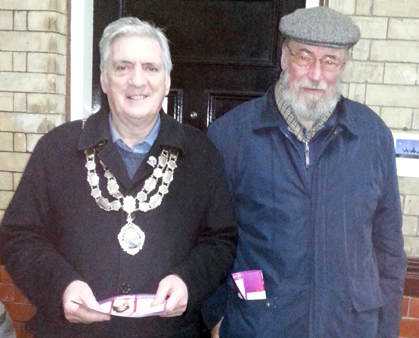 2016 update on the Lift, Access and Car Parking
As well as environmental work, the Friends are currently working with the railway organisations on plans for extending the car park and for making the station fully accessible. Contractors have been on site and carried out preliminary work on the lifts. The first stage was to dismantle parts of the existing goods lifts so that Network Rail's contractors could carry out an assessment of the shafts, ready for passenger lifts. A full Rail Heritage report is being carried out and the best options for the conservation of the machinery considered. Plans for all the work necessary to make Hebden Bridge station fully step-free under the Access for All programme are expected to take another step forward in 2017 and Network Rail will be liaising with the Friends to take that forward.
The Friends said, "It is encouraging that work on making Hebden Bridge station fully accessible has now started. It has to be handled sensitively as our station is Grade II Listed and a much loved part of the town. The Friends of Hebden Bridge Station are liaising closely with Network Rail to ensure that the work is done sensitively whilst making our station fit for the 21st century."
Cycle Lockers
On 1 November 2016, just before the damp, cold weather came, three Friends spent several hours cleaning out the moss and leaves from the cycle lockers, wire-brushing them and finally painting the doors in silver hammerite and the back and sides in black hammerite. Sadly, due to the temperature dropping and the light failing the painting job wasn't completed and may have to wait until warmer, drier weather now.
The Trials and Tribulations
of the Railway Pioneers
- getting them to work - a talk by Peter Jeffery
On 19th October 2016, The Friends of Hebden Bridge Station held what is hoped to be the first in a series of lectures on railway topics, in Hope Baptist chapel. For our inaugural talk, we heard from Peter Jeffrey, whose interest in railways has spanned many years. His enthusiasm is such that he is building his own working model steam locomotive! Peter's talk, "The Trials and Tribulations of the Railway Pioneers", was well-presented and included information to interest both the enthusiast and the newcomer alike.

Peter led us from the early difficulties faced by Richard Trevithick, who Peter regards as the true 'father of railways', through the byways of rack railways to the Stephensons, father and son, and then to Brunel and his 'Battle of the Gauges'. Peter showed how the difficulties ranged from public and private opposition especially some uncooperative landowners, to broken rails, and to the need for more steam power.
The Manchester & Leeds Railway and Summit Tunnel 175th Anniversary 1st March 2016
Read about the history in this article. The M&LR and Summit 175th Anniversary
12 August 2014.
UPPER CALDER VALLEY RENAISSANCE SUSTAINABLE TRANSPORT GROUP
Response to the DfT and Rail North Consultation on the Northern Rail and Trans Pennine Express Franchises.
Signal Box listed
In 2012, Friends of Hebden Bridge Station supported the proposed listing providing information to English Heritage. The listing can be found at Hebden Bridge Signal Box
BBC report on Hebden Bridge Signal Box
Thanks to Lancashire & Yorkshire Railway Society for the following article.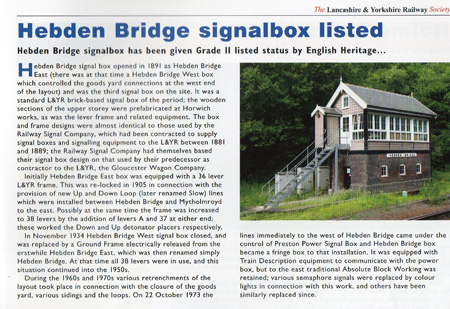 New franchise submission
The Upper Calder Valley Renaissance Sustainable Transport Group has submitted a document to the Department for Transport: New Franchise(s) to Replace Current Northern Rail and First TPE Franchises. A Word version is available here.